Traveling without moving
Books to take you afar.
(I hope you are well. I took the liberty of subscribing you to my newsletter, which will come out once a week! You can always unsubscribe below.)
I thought about the title of this post while writing a piece for a magazine's travel section, and a book of travel chronicles, in self-imposed quarantine.
The truth is, we all need adventure: Instagram is no longer showing pictures of people in exotic places doing audacious things but of friends just loafing around in their homes—but even back when it was, it seemed more as a way of showing off than an opportunity to connect.
Travel writing can recreate the sense of discovery that has become extinct in our hyper-mediated times. I'm not talking about "what to do in Hampi" or "where to go in Tel Aviv," but about literary pieces that unveil what a particular place means to the author and that document, almost in an anthropological manner, a space in time.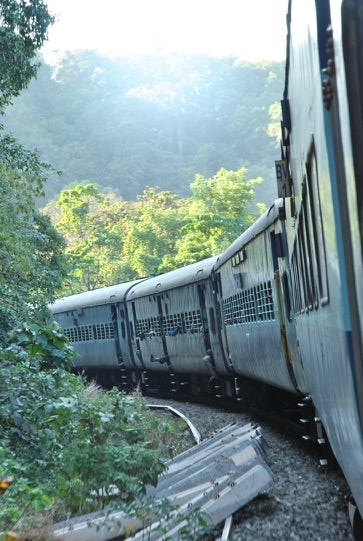 These books are the perfect companions to quarantine. Below you'll find my favorite English-language travel books, just in case you want to travel without moving (by the way, that album came out twenty years ago! Damn.)
—Mark Twain's "The Innocents Abroad": this hilarious book is a chronicle of Twain's epic trip to the Mediterranean and the Middle East. One gets a sense of how much travel has changed when reading it; traveling by boat at the end of the Nineteenth Century was a slow affair, but this increases the narrative tension and the sense of distance. Twain visits Greece, Egypt, and Turkey and documents the misery and majesty of the soon-to-be-defunct Ottoman Empire; it's impressive to see Istanbul and Jerusalem depicted as shabby, dirty cities.
—Paul Theroux "The Great Railway Bazaar": in the 1970s, British writer Theroux took a four-month trip from London to Japan and back, using (mostly) trains. As visitors in transitory public places, passengers in train cars come to stand as symbols of the space traversed. Theroux takes us through a post-war Vietnam and a changing India, and finds, in Tokyo's hyper-fast trains, a lack of public intimacy comparable to airplanes. The whole journey ends with Theroux going insane transversing the entire USSR in the incredibly monotonous Trans-Siberian Railroad with a drunk officer as a couch companion.
—VS Naipaul's India Trilogy: the Noble prize winner, himself a descendant of Indians, raised in the Caribean, traveled to India in search of the essence of the subcontinent multiple times. In his last book, you'll read about his decade-long return to a lake by the Nepalese border, where he sat out to write in the first book. I find his views on India a bit patronizing and even colonial, but his writing is excellent.
—Bruce Chatwin's "In Patagonia": here's a book that'll conjure dramatic, vast and barren landscapes. Written in the 1970s, it documents a hitchhiking/ camping trip through the Chilean Andes. On his voyage, Chatwin meets end-of-the-world European renegades living in small cabins in harsh and beautiful conditions; it exotifies…but who doesn't?
Just a note. All these books are written by men, and relly on the myth of the "macho daredevil." I have found that I'm not that type. My partner, Yvonne, is way more adventurous than me. If you know any travel books written by women, do let me know!
And, tell me, what are you doing these days to bo beyond your four walls?